United Cerebral Palsy (UCP), a leading service provider and advocate for children and adults with a spectrum of disabilities, welcomed its newest Celebrity Ambassador, Actor RJ Mitte, at its 2011 UCP Annual Conference in New Orleans, La. Mitte co-hosted the Opening Reception, presented the Outstanding Youth Award, and participated on a panel about mobilizing the next generation of philanthropists and advocates.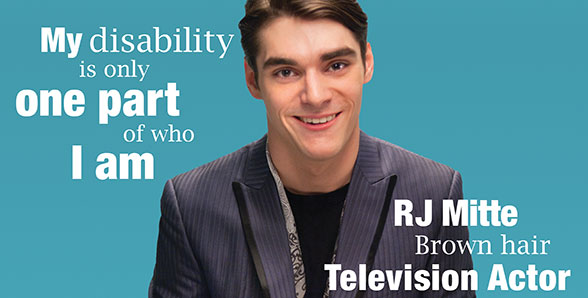 As announced on "National Cerebral Palsy Awareness Day," Mitte stars on the Emmy-nominated AMC drama "Breaking Bad." As a UCP Celebrity Ambassador, Mitte is committed to help fulfill UCP's mission to advance the independence, productivity and full citizenship of people with a spectrum of disabilities, supporting UCP's network of nearly 100 affiliates who provide services and support to more than 176,000 children and adults every day — one person at a time, one family at a time.
"I am excited to join the United Cerebral Palsy family and am committed to help educate and advocate for people with disabilities to live a life without limits," said Mitte. "There are so many opportunities for advancing independence and productivity for people with disabilities, and I'm eager to raise awareness to advance UCP's mission.".
-- RJ Mitte
"We are pleased to name RJ as a Celebrity Ambassador of United Cerebral Palsy. UCP believes that all people should be able to live a life without limits. As a young person with a disability, RJ has proven that having a disability cannot and should not hold anyone back, The civil rights movement is not over, and RJ's notoriety and voice will help us continue to push for the social, legal and technological changes that increase accessibility and independence, allowing people with disabilities to dream their own dreams today and into the future."
-- Stephen Bennett, United Cerebral Palsy President & Chief Executive Officer
Mitte's character on "Breaking Bad," Walter White Jr., has cerebral palsy. In real life Mitte also has cerebral palsy although it is a milder form than his character on the show. In addition to this new position with UCP, he is involved with several organizations that raise awareness of equality and diversity, and the prevention of bullying. He has been a featured guest speaker at an anti-bullying town hall discussion at the NAPT Annual Conference for school transportation professionals and has begun working with PACER's National Center for Bullying Prevention on a national campaign designed to engage and educate those who see bullying – leveraging peer-to-peer support. As a guest speaker at high schools, colleges, and universities around the country, Mitte openly talks about the ways he has overcome obstacles and how he has achieved his goals.
About UCP
For more than 50 years, UCP has been committed to advancing the independence, productivity and full citizenship of people with cerebral palsy and other disabilities, through its commitment to the principles of independence, inclusion and self-determination. As the premier disability charity in America, UCP is a nationwide organization with a network of more than 100 affiliates in 39 states that serves more than one million Americans a year through individualized programs and services.
As the UCP Ambassador, Macy will be involved in several activities throughout the year to bring public awareness to the work of UCP, including a public service campaign, speaking appearances and advocacy activities.

Source: UCP