The weekend was upon us and the twins had just got back from Florida (for spring break). When Dylan's bus rolled up at 2:45pm (on Friday) we patiently awaited the arrival of Ryan's bus to covertly map out our fun and destruction . Once we piled into the "Big Blue Van" ....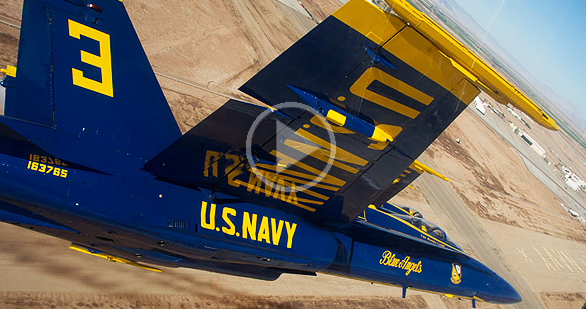 Click to view "Dylan & Ryan's Blue Angel Adventure"

Our first order of business was FOOD and there in no better place in the low-country to chow-down than Jack's Cosmic Dogs! After filling our bellies we motored on over to the Palmetto Grand Cinema to catch the 3D spectacle "How to train your Dragon" – great movie for the kids (if you haven't seen it). Leaving the theater produced a much needed ice cream stop, and then it was home, time to hit the rack because BIG plans awaited us in the morning.
Saturday morning was upon us and it couldn't have been a better day! Blue skies, the smell of fresh cut flowers in the air and a slight summer breeze graced us as we prepared for our afternoon trip to downtown Charleston. We wanted to get an early start so we quickly woofed down our breakfast and gathered our afternoon essentials; video and still cameras, stuffed animals, Dylan's walker, juice boxes and food. Once we arrived downtown all of us were on the lookout for the perfect parking spot, Dylan interjected frequently by yelling out "Park here daddy, park here.. This looks like a great spot" Ryan added "Yeh; we can ride scooters here!" Most of the Charleston harbor was filled to the brim with boats, anchored and waiting to catch the show; we finally found a spot, unloaded the van and ended up on the seawall, across the street from Battery Park (famous for its role in both the Revolutionary and Civil wars). Once settled, we experienced the swell of people picking out their own seat locations and preparing for what was going to be an awesome display of aircraft and aerial acrobatics. Once the show started, we weren't disappointed! While I was explaining the show to Dylan and Ryan (and the types of aircraft the Blue Angels use) a 4-plane formation came screaming over our heads at about 500 ft.!! Dylan turned to me for an immediate high-five and Ryan about jumped out of his Iron-Man shoes! WOW, it was amazing!! The sound, the thrill and the sights captivated the twins. One thing to note is that children with Cerebral Palsy tend to be extremely startled by loud or sudden noises; I was thinking about that when we settled in for the show. Boy was I wrong, Dylan was screaming at the top of his lungs in excitement! The show continued with-out a hitch and the aerial display was out of this world, both Dylan and Ryan couldn't stop laughing when I was trying to explain to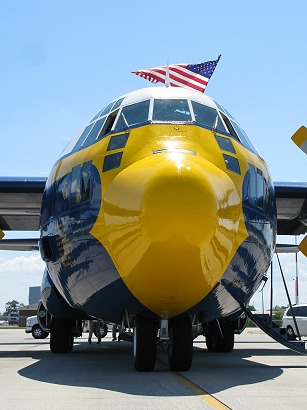 them that the C-130 used by the Blue Angels was named "Fat Albert"
I think they are still laughing about that one.. When the show ended and the noise subsided the best part of the day for me was seeing the ear-to-ear smiles on the boys, it was a great ending to a perfect afternoon, mission accomplished! Now it was time to prepare for our final day of destruction and fun -- Sunday!
Sunday started in much the same way Saturday did, but a little cooler. Next up on the agenda was the local Mt. Pleasant (low-country) Strawberry Festival . Ok boys, loosen those belts and prepare to stuff your faces with all the junk food you can muster (on the menu? coke, cotton candy, strawberry shortcake, ice cream, nerds, hotdogs and if you have room, elephant ears!) I'm telling you, I think we polished off the entire menu! The good thing was that the festival was spread-out so the walking did us good, at times it was a little tough (with Dylan being in his wheelchair) because of the gravel surfaces and soft dirt fields, but we managed. After par-taking in all the festival had to offer we finished the afternoon by hopping a ride on an old-time horse & carriage, battled each other in the water spray carnival game, danced to "The Coppertone's" and rode the three-hump slide. All-in-all a great experience, even though Dylan and I lost our potato sack half-way down the slide (ouch). As we made our way to the exit the twins turned to me and said "Thank you daddy! Thank you for a great weekend! We love you" When they said that to me (in unison) it made my day! There is nothing better than spending quality time with your children and getting the opportunity to share in their joy.
As a parent of a disabled child it's always important that he is treated no different than his twin brother Ryan and that he enjoys the same things in life. We (as parents) sometimes forget that his day is much more challenging than ours; school, mobility, therapy and other things that effect him. I will always, w/ every intention, make sacrifices to ensure a healthy active life for him. Always remember to push the envelop of their development and success!