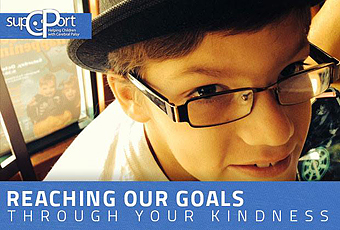 Welcome to SupportCP.org — Helping Dylan with Cerebral Palsy
This site was specifically designed and created to bring focused awareness to Cerebral Palsy as well as provide alternative resources for our son.


Our 2nd Annual "Life Without Limits" crowd-funding campaign

(through Indiegogo) is underway! Help Dylan ACHIEVE HIS GOAL of WALKING by providing support for occupational and physical therapy sessions that insurance does not cover.
Short Summary: Supportcp.org and this funding campaign is designed to bring awareness to my son's physical condition.
What is Cerebral Palsy: Cerebral Palsy is a group of chronic conditions affecting body movement and muscle coordination.
What We Need: Our goal is to raise $5,000.00 (in 60 days) to fund occupational and physical therapy sessions.
What You Get: By donating, you will have the opportunity to receive cool items from SupportCP and Dylan.
Contribute to Dylan's Campaign Today